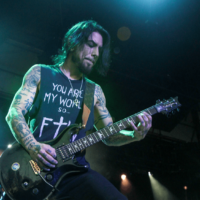 Foo Fighters drummer Taylor Hawkins, Jane's Addiction guitarist Dave Navarro, and bassist Chris Chaney have teamed up to form a new band called "NHC."  The NHC group name stands for: N for Navarro; H for Hawkins; and C for Chaney.  Jane's Addiction bassist Chaney and Foo Fighters drummer Hawkins previously played together in Alanis Morissette's live band in the '90s, while Chaney is also a part of Hawkins' solo band 'The Coattail Riders.'
NHC has recently shared two tracks – 'Feed The Cruel' and 'Better Move On,' with Hawkins taking duties for lead vocals and drums, Navarro wielding the axe and Chaney playing bass.
NHC will make their live debut opening for Pearl Jam at the Ohana Festival in Dana Point, California on October 2.
Editorial credit: txking / Shutterstock.com