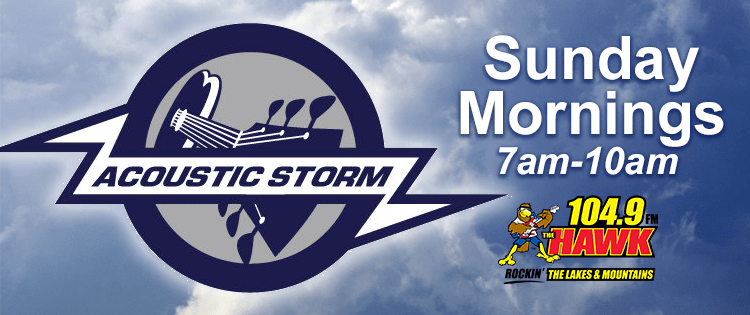 Sunday Mornings at 7a, The Acoustic Storm is an internationally syndicated radio program featuring the best variety of acoustic-based rock.
With an emphasis on acoustic guitar-driven songs, Audrey Parets presents the full spectrum of acoustic rock, including rarely heard "unplugged" versions of classic tunes in their purest form.
Each week, the show spotlights an artist in "The Eye of The Acoustic Storm" with music, bio information and sound bites.
Here's the kind of music you'll hear on The Acoustic Storm:
Hall of Fame Acoustic Rock:
Beatles; Stones; Zeppelin; Petty; Neil Young; Fleetwood Mac; U2; Pink Floyd; Heart…
Unplugged Classics:
Eagles: "Hotel California"; Eric Clapton: "Layla"; Bruce Springsteen: "Born to Run"; Who: "Won't Get Fooled Again"…
Singer-Songwriters:
Bob Dylan; Van Morrison; Paul Simon; Jackson Browne…
Acoustic Blues:
Stevie Ray Vaughan; BB King; Bonnie Raitt; Muddy Waters