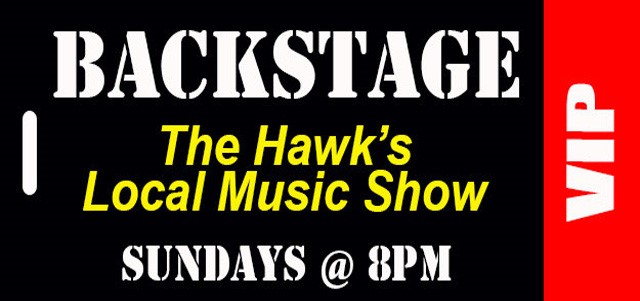 Join Guido Sunday nights at 8pm for BACKSTAGE! This is your chance to hear the music that Rock's the Lakes Region…If you would like to be heard on BACKSTAGE please contact Guido by filling out the form below.
 Send your jams by CD…even if you just burn it onto a disc at your house.
Great Eastern Radio
ATTN: 104.9 The Hawk – BACKSTAGE
501 South St.
Bow, NH 03304
 Note: Not all music will be played-and you won't necessarily be notified if it will be played due to an overwhelming amount of music coming in…just tune in!
FEATURED BANDS
95Hyde, A Simple Complex, Adam Ezra Group, The Angels Share, Ana Sapphira, Anthony Fallacaro, The Band Apollo, Best Not Broken, Blacklight Ruckus, Blind Revision, Bow Thayer, Box of Nails, Brasbe, Bright Orange !Blasto!, Brooks Young Band, By the Stone, Chariot Brigade, Cougar Bait, Craving Lucy, Crazy Jane, Dark Minions, Dressed for the Occasion, Dusty Gray Band, Eden's Lie, Electric Mummy, The Fearless Ones, Flabberghaster, Frank Brewster, Gone For Days, Gunhouse Hill, Hanging Scarlet, High Range, Hunter, Jackie Lee, jamAntics, Joe Merrick, Josh Logan, Kelley Morris & The Fallen Free, Kick The Ladder, Leaving Eden, Let Us Not Forget, Long Day Sin, Mazy Spade, Michael Vincent Band, Mindset-X, Mongrel, Natalie Turgeon Band, Nemes, Old Salt Band, Paul Hubert, Pat & The Hats, People Skills, Pretentious Fools, The Prism Bombs, Prospect Hill, Rachel Vogelzang, Raising Scarlet, Red Sky Mary, REVEL 9, Ron Noyes Band, Ryan Ordway, The Setbacks, Silent Season, Solemn Remedy, Soundtrack to Monday, The Snaz, Subject 2 Change, Tall Boys, The Four Legged Faithful, Thurkills Vision, Transpire, Touch 2 Much, Uncle Jack, The Veayo Twins, Wayland, Will Kindler, Zach Benton